WebGL – 3D-

Online-Product-Configurators
Interactive 3D solutions for the web –

Product Changes Based on Customer Input
We offer you…
3D online product configurators based on WebGL

3D product and process visualization in WebGL

interactive 3D trade show presentations

3D animation for product animations

porting of 2D editors on SVG-BASIS in WebGL

a

ll solutions can also be used offline if desired
We controll f

ollowing techniques in WebGL:
animation

real-time projection in 2D and 3D on all imaginable forms

exchange of materials and components

optimization and creation of all types of 3D models

photorealistic

representation of objects
The plugin-free 3D-Realtime presentations for the web is reality (3D-real-time representation).
WebGL is the abbreviation for Web Graphics Library and is a component of modern webbrowser. Without additional extensions, hardware-accelerated 3D graphics can now be displayed directly in the browser. On the website caniuse.com you can see the current development status.
We are currently developing WebGL solutions for several companies, including the presentation of new products on the Internet, intranet, trade fairs and in the form of online configurators.
Since all major providers of browsers have firmly implemented the WebGL interface, also successively for mobile solutions, this technology will become standard in the coming years. Wherever 3D real-time depictions are relevant and cost-efficient, the implementation will take place via WebGL, since there is finally a uniform standard that is optimally integrated into the current HTML5 development.
Here are some videos of our current project with Stliamo GmbH: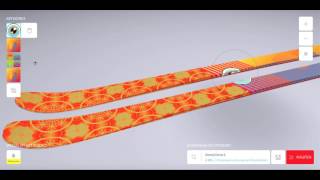 Ski Orange Styliamo
Ski Orange Styliamo

This is just a showcase for customizing skis with our state-of-the-art product editor. Most important: The Styliamo editor generates super-hi-res print data (including the name of the designers´ and customers´name)!
DEMO Online Configurator of a KUKA® Industrial Robot
What can WebGL do?
plugin-free display of 3D content

seamless integration into websites

photorealistic representation

play animations

select predefined default views

latest shader technologies
WebGL applications:
3D representation on the web (online and offline)

3D online configurators

a

nimation of function sequences (eg explosions)

o

n- and offline presentations
Interesting links: